Leeds United Links
Showcasing the very best Leeds United Links out there in cyberspace.
---
Clarke One Nil
Excellent musings from Michael Green who describes his United narrative as "no frills, no tempering, no compromise, just insights and opinions, blithered up into a social media environment." What more could a true Leeds Fan want?
Click Here To Visit Clarke One Nil
---
Dirty Leeds Blog

Really well written blog by life-long Leeds fan Lee.
Click Here To Visit The Dirty Leeds Blog
---
Discuss Leeds United

Message Board and Fans Forum To Discuss Leeds United Matters on and off the Pitch.
Click Here To Visit Discuss Leeds United
---
LUFC Talk

Quality Leeds United fans forum that also has a great Leeds United resources section.
Click Here To Visit LUFC Talk
---
One Mick Jones
Click Here To Talk Football With Clash City Rockers.
---
Travels of A Leeds Fan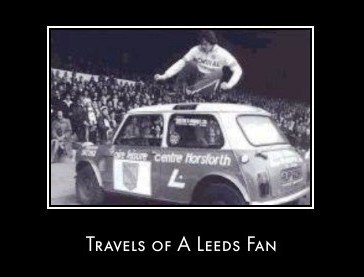 Great blog based on the author's observations and thoughts on football, life and the universe whilst following the mighty Leeds United around the highways and bi-ways of England. It is described as a true fans eye view of each of the matches focusing on the whole day from start to finish and the characters encountered along the way.



Click Here To Read The Travels of A Leeds Fan Blog




---
WACCOE

An extremely popular Leeds United discussion forum.
Click Here To Visit WACCOE
---
Custom Search
---