The Mighty Whites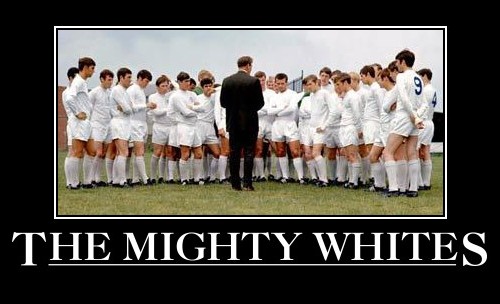 Welcome to the Mighty Whites page, a white hot celebration of the iconic Leeds United kit. Writing about the famous white shirt in the Times, Rick Broadbent had the following to say.
"Okay, so we pinched the idea from Real Madrid, but it is still the best kit this side of Spain. Blue is dull, red is showy and West Ham, Burnley and Aston Villa are interchangeable.
All white is design simplicity, perfectly highlighting Billy Bremner's carrot top and Peter Haddock's pastiness. Add a purple tracksuit in the 70s and you could have been in the Tate Modern."


---
The Mighty Whites Slideshow
(Remember to hit the mute button on the slideshow before watching the video below).
---
The Mighty Whites on YouTube
Video version of the slideshow above but with a different soundtrack i.e White Riot by the Clash.
If you want to watch the video on YouTube so you can comment or rate, simply right click anywhere on the video below and select watch on YouTube.
---
Custom Search
---